Best Promo Products for Halloween
October marks the start of spooky season! That means it's finally time for pumpkin patches, scary movies and most importantly, trick-or-treating! Use this Halloween as an opportunity for your brand to join in the fun with branded merch that makes it easy!
Check out our Halloween Collection for spooky swag and our corporate food gifts for the perfect promotional products for small, mid-size and large businesses.
Halloween Campaign Ideas
Halloween is one of the most popular holidays of the year and the start of the holiday season for many. The cooler weather offers the perfect opportunity for your brand to host a celebration to kick off the season with hayrides, trick-or-treating, movie nights, pumpkin carving and so much more. Depending on the event, audience members will view your brand as family-friendly.
Even the smallest gestures like passing out candy or decorating the office can go a long way with your target audience. Participating in the fall festivities and Halloween traditions shows that your brand is part of the community. After a few years, everyone in the community will view your brand as generous, fun and value-oriented.
Halloween Promotional Products for Trick or Treaters
Whether dressing in costume as a family, walking through the neighborhood, "trunk-or-treating," attending a party or even staying in watching a scary movie, everyone has their favorite Halloween traditions they look forward to.
Check out our food and drink, Halloween collection and more for the perfect promotional products for small, mid-size and large businesses.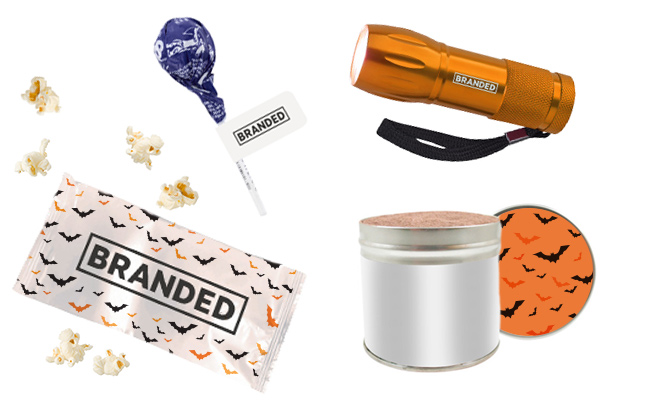 Candy is a must-have for any Halloween campaign or celebration! This Tootsie Pop® with Flag is a great option for children and adults. Try passing these and other candy options out at the office, fall festivities and even trick-or-treating celebrations.
Custom Popcorn Bags
There is nothing better than a sweet and salty combo! These bags of popcorn are perfect to balance the sweetness of all the candy and will help your brand stand out. Also perfect for snuggling up to watch a scary movie or an excuse for popping out the winter holiday movies.
After the night of trick-or-treating is over, snuggle in and warm up with a nice cup of hot cocoa. Recipients will love sharing with their family after a chilly night, and start to look forward to shopping or working with your brand during the upcoming holidays.
Be the light on the dark spooky night. Giving children and their families flashlights and other reflective gifts ensures that they are able to be seen by cars in the dark allowing them to trick or treat safely. Parents will love the peace of mind and appreciate your organization for thinking ahead and caring about keeping their family safe.
Read SPP Trends: Fall Festivities and Product Spotlight: Company Branded Outerwear to check out more ideas and inspiration for fall promo perfect for Halloween, Thanksgiving and everything in between.