Raise a Glass to Branded Drinkware
From cups and mugs to water bottles and more; drinkware is a classic promotional item that is always a big hit with recipients. Explore our selection of drinkware and learn more about which options might be right for your business and branding needs.
Why Invest in Branded Drinkware?
Every meal, commute, errand, workout, event and more is an opportunity for your brand to gain exposure using drinkware.
According to the Advertising Specialty Institute (ASI), drinkware will generate 1,400 impressions on average during its lifetime, which is generally around 12 months on average. The ASI also found that drinkware items are 70% more likely to be kept by recipients. That means your audience will think of your brand while getting their eight cups a day or starting their morning off on the right foot with a cup of Joe.
Choose the right drinkware for your brand and discover our options for brands and audiences of all sizes.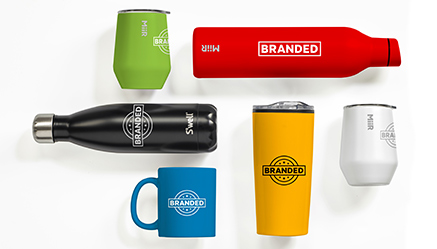 Water Bottles
Life gets busy. For on-the-go hydration, reusable water bottles are the perfect way to reach even the busiest and preoccupied audience. Recipients will appreciate the portability and handiness of having a high-quality water bottle available and thank your brand for making it easy to prioritize hydration. Ideal for hosting company retreats, sporting events, giveaways and so much more!
Plastic Cups
Morning, noon and night, custom plastic cups offer the perfect opportunity for brand exposure, all day, every day. For tradeshows, conferences, events and more try including brochures, contact cards and even additional promo inside the plastic cup as an incentive and reminder to say in touch.
Mugs and Glassware
Make your logo the first thing they see in the morning and the last thing they see at night with personalized mugs and glassware. Perfect for providing coffee at morning meetings, drinks at cocktail hours, conference giveaways, morale boosters or simply keeping on hand at the office.
Tumblers
Branded tumblers are where promo meets practicality. Whether they are gearing up for a special outing or simply heading to the office, custom tumblers are great for both hot and cold beverages to last the entire day. Recipients will appreciate the convenience and remember your brand when grabbing their tumbler on the go.
Can Coolers
Some drinks simply taste better in the can. Join the party with custom can coolers to keep their drinks cold and hands warm. Can coolers are a great choice for brands of all sizes, and are perfect for handing out at tailgate parties, outdoor events and so much more.
Straws
Sip sustainably and eliminate harmful plastic waste with custom reusable straws. When you give branded reusable straws, recipients will love the practicality and appreciate your brand's commitment to helping the environment.
For additional product selection, check out our Drinkware category for more ideas and inspiration.