As summer comes to an end, fans from every team are counting down the days until the first kick-off and getting excited for the beginning of football season. Whether they are tailgating at the stadium, hosting a watch party or watching online at home, discover how custom branded products that support their fandom can impress your employees, clients, associates and more.
Who's Watching Football?
The fans are ready! In the United States, 65% of adults say they watch football in some form, with 56% watching games on television and 9% tuning in via the internet (Global Web Index). For your brand, this offers an opportunity to share in their team spirit with your branding.
When fans see that your brand shares their love for the game, they will associate your brand with the friendship, accountability and loyalty that the fan community provides. Whether hosting a watch party for employees, promoting your brand with tailgate gear and more, your audience will appreciate the effort and value the relationship you develop in the future.
Even after football season is over, promotional products are great for celebrating all sports and can be a fantastic way to reinforce your message to potential and loyal fans of your brand. According to the Global Web Index, more than 50% of Football fans also follow baseball, basketball and the Olympics.
Start your collection and check out some of our favorite game day products selected by our merchandising experts.
Fan Favorites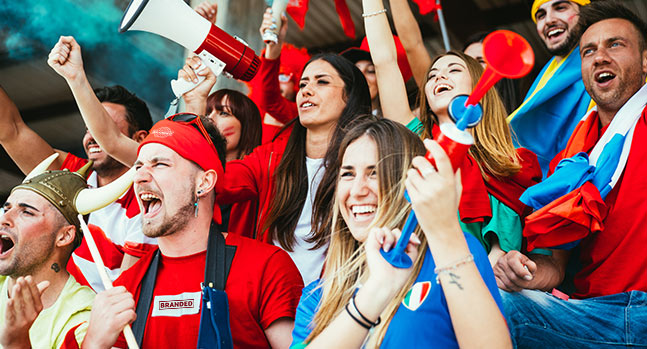 T-shirts, Sweatshirts, Jackets and More
The easiest and most important way to show team spirit is to wear the team colors. Giving fans branded T-shirts at games, tailgates, watch parties and more can raise the excitement that they will associate with your brand long after the game is over. As the season progresses, try giving custom sweatshirts, custom logo jackets and other outerwear as an exclusive gift to ensure your favorite fans can represent their team while staying nice and warm.
Outdoor and Leisure
Football season weather is famous for being the perfect mixture of "not too hot," and "not too cold." Start the fun before kickoff with outdoor and leisure products that are perfect for tailgating, watch parties and more. For important games, celebrations, homecomings and more try giving fans rally towels to cheer in the stands and take as a keepsake for when they get home.
Drinkware
Nothing says football like an ice-cold beverage. Whether tailgating at the stadium, in the stands or watching from home, make your brand a part of the memory with drinkware like custom can coolers and reusable plastic cups featuring your logo. Fans will love taking them to every game and even use them and think of you during the off-season.
Tech
Get the party started with custom speakers and more tech items to play music, listen to scores and so much more. Recipients will appreciate being able to build their dream atmosphere and thank your brand for providing them with an easy way to do it. To keep the party going, try giving recipients logo power banks to keep their phone batteries charged and ready for selfies, texting and more during and after the game.
Browse our site to tackle all your promotional and branded needs with some of our favorite items to kick off the football season.